United Languages Sprachinstitut
LANGUAGE COURSES FOR ADULTS
GROUP LESSONS
YOU CAN ONLY LEARN EFFECTIVELY IN SMALL GROUPS: WE, THEREFORE, DELIBERATELY LIMIT THE NUMBER OF PARTICIPANTS IN OUR COURSES.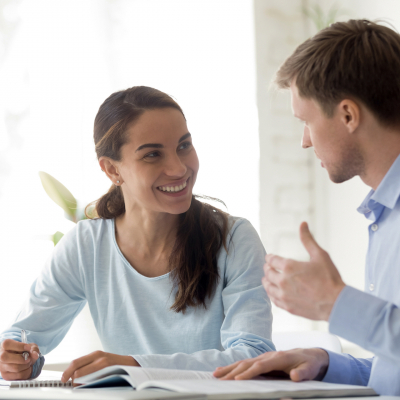 PRIVATE LESSONS
Private lessons are the best and most effective way to learn a foreign language quickly. The content an concept of the lessons are tailored to your goals, previous knowledge and wishes. Exactly those topics that are important to you will be specifically trained at your learning pace.
Individual lessons can be started at any time. When and where the lessons take place – whether at your place or at ours – how long and how often, you decide.
You can also book individual lessons or days at any time – for example to prepare specifically for an important exam, the decisive job interview or a presentation.
THE DECISIVE KICK FOR YOUR CAREER
TOPIC SPECIFIC COURSES
They are mentioned in every job advertisement, and in many companies they are part of everyday life. In the age of globalization, job-specific foreign language skills are indispensable for business and professional success. However, the knowledge gaines in school is usually not sufficient for a professional appearance.
We have developed a variety of courses and modules that are precisely tailored to the needs of the modern working and business world. In these courses you can build up the language skills that are important for your profession in a concentrated and efficient way.
BUSINESS LANGUAGE COURSES
e.g. Business English, Business Spanish etc. These courses focus on improving general language skills in typical business and work-related situations and building a differentiated business vocabulary.
SHORT & QUICK MODULES
Short compact courses for the rapid improvement of individual communicative skills in the foreign language, e.g. confident appearance on the telephone, at presentations, meetings and negotiations, convincing and professional business correspondence, etc. Realistic situations are simulated so that you are optimally prepared for practice.
EXPANSION-TRAINING
These courses are tailored to the needs of individual professions, e.g. banking & finance, hotel, automotive, secretarial, shipping, etc. The language skills and vocabulary that are important for the respective profession are specifically trained.
PLAN YOUR SUCCESS WITH OUR PROVEN KNOW HOW
A start of our language courses is possible at any time. We are flexible and implement your projects quickly, unbureaucratically and effectively. In a personal conversation you can best convince yourself of the possibilities we have for you.